All Blue Riband companies have many years experience providing a service for visitors from all over the world. Many have gone on to become regular visitors and friends! We've answered a few of the questions here that we get from our many overseas visitors. Each company website has additional helpful information and they will be pleased to answer your queries by email.
Is this a suitable vacation for visitors to the UK?
It's an excellent way to see the real England and Wales and meet the real people in a safe and fairly self-contained environment that still leaves room for a little adventure. You see heritage at close hand; canals have changed little since they played such a large part in the Industrial Revolution. You see beautiful countryside and nature close up. Best of all, it's an opportunity to travel slowly, see the fine details of life, enjoy new friendships and take some slow, deep breaths for a change! And, as part of a longer trip, it's the ideal way to slow down after jetting through 7 European countries in 7 days, whether that was meant to be for business or pleasure!
What is the UK Canal System?
Basically it's a network of over 2000 miles (3000km) of man-made waterways that was mostly built over 200 years ago. It also includes some rivers which have been made navigable over many hundreds of years. New engineering techniques had to be developed to build the canals. The canals made the Industrial Revolution possible by allowing goods and raw materials to be moved between the new 'factories' and the new 'consumers'. When the railways took over that role, about 100 years ago, the canals went into slow decline and now carry very little commercial cargoes. However there are more boats afloat than ever because canal cruising is such a popular leisure activity. Most canals are managed and maintained by the Canal and River Trust, a charitable trust that took over control from the previous government-owned operator British Waterways in July 2012.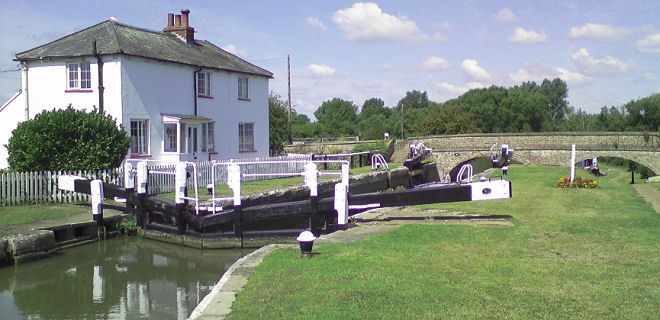 When is the best time to come?
Self-drive hire boats are usually available from mid-March to late October, which is often referred to as the 'cruising season'. Some companies operate all year round - please check their websites.
The canals are busiest during the school vacations from late July to early September and prices are highest then. 'Busy' in canal terms means that some locks on popular canals may have queues of boats waiting an hour to get into the locks, while popular mooring spaces outside pubs etc. may fill up mid-afternoon. You can choose quieter canals or just relax and enjoy the surroundings and conversations!
The weather is better from June to September normally, but British weather is a law unto itself and can change many times in a day, although it is rarely extreme. Blustery showers being counted as 'bad' weather. Most people don't see canal cruising as just a 'fair weather' vacation, there's lots to do whatever the weather.
How do we get to the canals?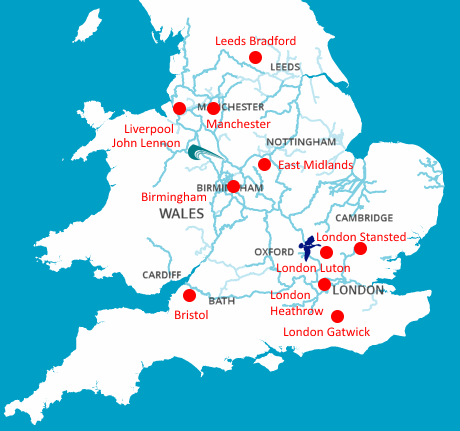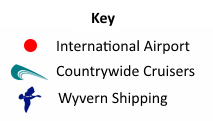 Britain is a fairly compact country and has efficient transport systems. The above map shows the major international airports in relation to Blue Riband bases and the canal and river system. The nearest airports to our northern base (Countrywide Cruisers) are Birmingham, East Midlands, Manchester and Liverpool John Lennon airports. The nearest airports to our southern base (Wyvern Shipping) are London Luton, London Heathrow, London Stansted and London Gatwick. Alternatively, you can get an international train from Paris, Brussels or Lille to central London (St Pancras) via the Eurotunnel!
The northern-most base is no more than 3 hours by train from London and if you fly into Manchester or Birmingham you could be at either of our bases by train, taxi or bus in under two or three hours. All Blue Riband companies provide detailed information on how to get to their bases on their websites.
Do we need previous boating experience?
You don't need any formal qualification or even boating experience. Expert instruction is always given by Blue Riband bases. You'll soon pick things up by taking it slowly and watching and talking to other boaters. Most will be vacationers just like you, and happy to show you the 'ropes'. And although we may drive cars on the wrong side of the road in the UK, we drive boats on the right side of the canals!

What about safety?
Water can be dangerous and boats are heavy moving objects. You should always take care and children and those who can't swim should wear life-jackets, especially if they are getting on and off the boat frequently. However, canals are usually shallow and slow moving and all Blue Riband bases give excellent boat safety instructions and training.
Personal safety and crime are not major problems on the canals provided normal sensible precautions, like locking boat doors when unoccupied, are practised. There are a few inner-city areas where additional precautions are advised; your operator will give details.
How far can we cruise?
The main canal system is very extensive, stretching from the South of England to Ripon in the North-East and Wales in the West. Whichever sort of cruising vacation you choose, one thing is certain: you will be moving slowly! The maximum speed limit on the canals is 4 miles per hour, about 6km/h! Going faster creates wash that erodes canal banks. Boats don't have speedometers but 4mph is about a good walking pace. Also you should never be making a breaking wave behind the boat. Even this speed is too fast when passing moored boats; you should slow right down to avoid pulling out their mooring lines. Going through locks slows you down more; it can take 20 minutes to get through one lock and they often come in flights of ten or twenty or more!
So canal cruising is not a vacation to hurry, that is its beauty! Don't plan to do more than 20 miles in a day unless there are very few locks around or you don't mind long hours. You should not plan to travel after dark and some locks on some canals may be closed after 4 or 5pm until 8am to save water supplies. After a few days going slowly you'll be feeling the benefits!
All Blue Riband bases are very experienced in meeting the special needs of overseas clients. Look through their websites and brochures for the services they offer overseas clients; many will provide extra towels etc, organize supplies and arrange or suggest accommodation and airport transportation either side of your canalboat vacation.